The Becker Campus Advisory Council (CAC) convenes monthly on issues that affect the campus as a whole.
Current members, agendas, and meeting minutes can all be found here.  
For more information, email cac@beckerelementary.com.
Campus Advisory Councils are committees of parents, students, business and community representatives, teachers, principals, and other campus staff. The formation of CACs is required by state law (Texas Education Code, §11.251). Specific functions of CACs include providing review and comment on:
Campus Educational Program
Campus Performance
Campus Staff Development Plan
Campus-Level Waiver Requests to the State
Campus Budget
The mission of CACs is to promote excellence in education for all students through broad-based representation. CACs provide valuable input to principals, who ultimately have decision-making responsibility for their campuses.
For more information about the important work of CACs, visit https://www.austinisd.org/advisory-bodies/cac. See the Becker Calendar for Becker CAC meeting dates.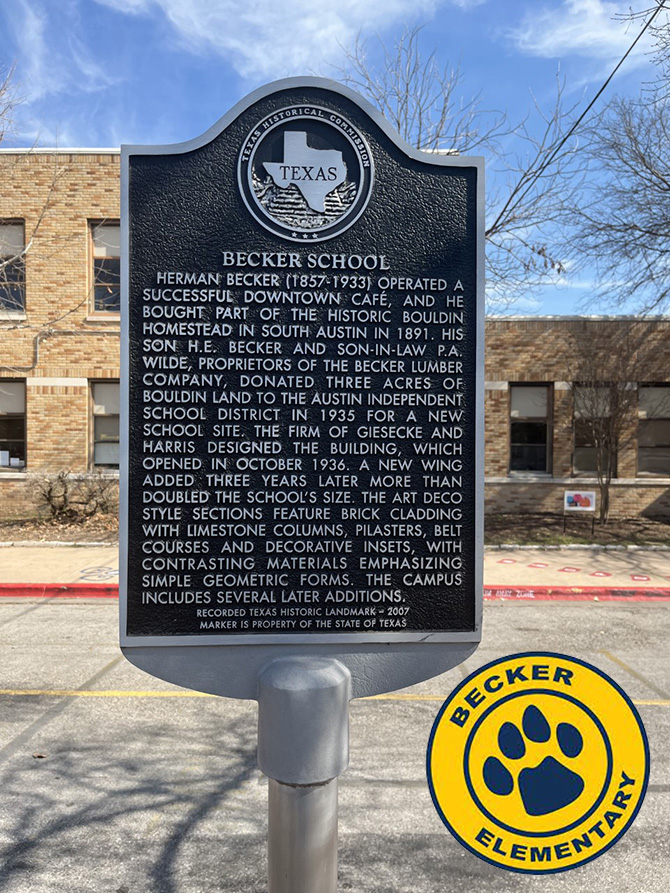 Becker Elementary Historical Marker Inscription
Herman Becker (1857-1933) operated a successful downtown café, and he bought part of the historic Bouldin homestead in south Austin in 1891. His son H.E. Becker and son-in-law P.A. Wilde, proprietors of the Becker Lumber Company, donated three acres of Bouldin land to the Austin Independent School District in 1935 for a new school site. The firm of Giesecke and Harris designed the building, which opened in October 1936. A new wing added three years later more than doubled the school's size. The Art Deco style sections feature brick cladding with limestone columns, pilasters, belt courses and decorative insets, with contrasting materials emphasizing simple geometric forms. The campus includes several later additions.
Recorded Texas Historic Landmark - 2007
Marker is property of the State of Texas